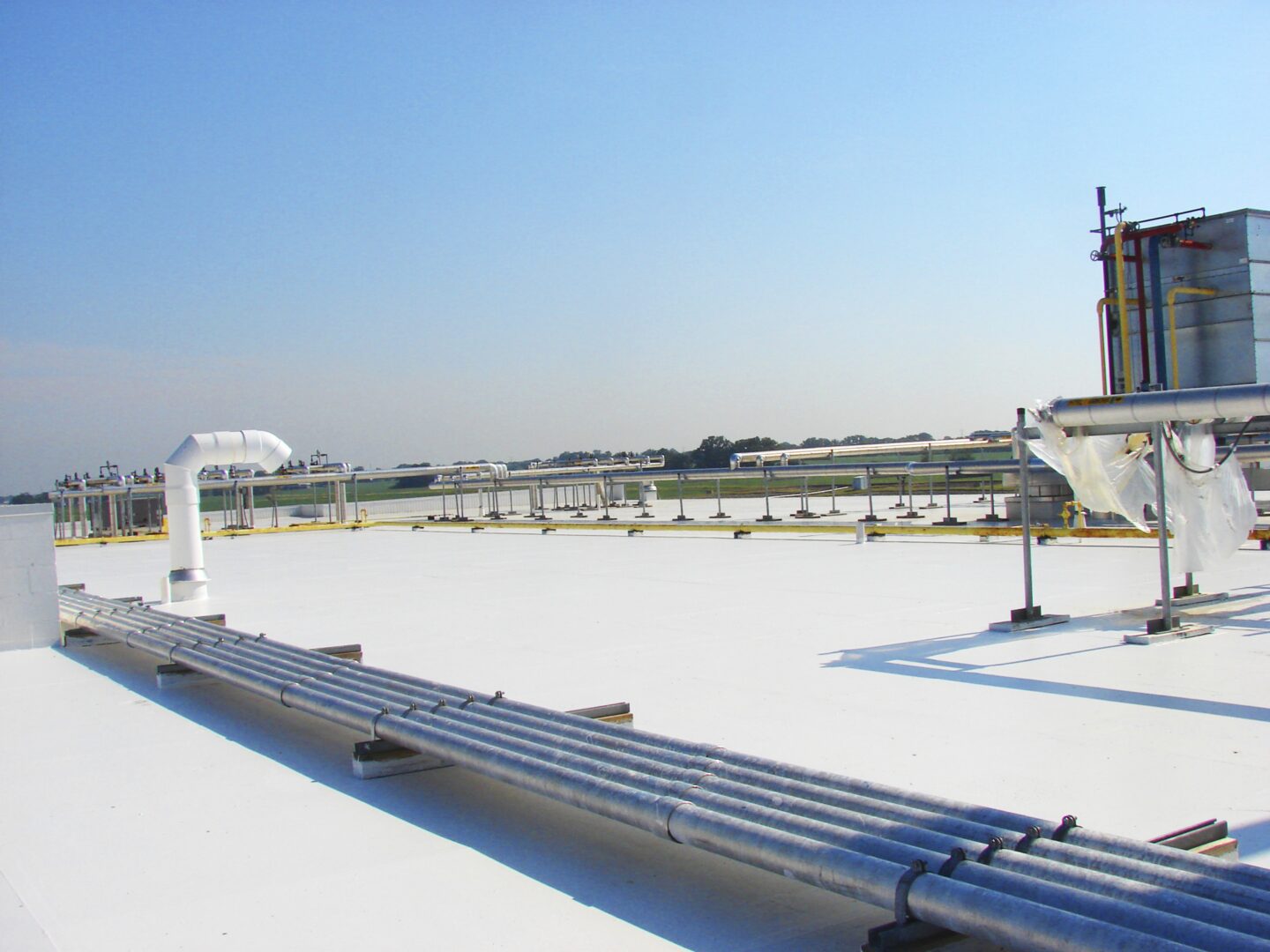 Commercial and Residential Roofing Services
Foley Tuckpointing & Roofing, Inc. performs Tuckpointing & Brick Repair, Modified Bitumen Roofing, EPDM Roofing, Built-Up Roofing (BUR), Storm Damage and Roof Inspection.
Tuckpointing & Brick Repair
We specialize in masonry repair, tuckpointing, chimney rebuilds, chemical cleaning, and many other masonry services:
Brick, Block, Waterproofing

Chimney solutions to every problem
Door and window lintel-replacement

Bricklaying (all masonry units)
Tuckpointing becomes necessary when mortar joints have cracked, washed out, or disintegrated due to the Midwest Winters and the freeze-thaw cycle, or just the age of the building.
Water penetration can cause mortar to weaken and brick to deteriorate. If moisture gets in the way of the defected brick and freezes it will cause the brick the split, chip, deflect or move. Once this happens the brick offers no structural support to the masonry wall. Removing the defected brick will prevent the water from extending to the healthy brick.
Penetrating moisture not only weakens the mortar that bonds the masonry units together, it also promotes premature deterioration of brick & split face block. If moisture finds its way into a defect on the brick and freezes, it will cause the brick to spall, deflect or displace. Once this happens, waterproofing should be applied. We have completed many such projects in Chicago in the last 10 years of the building boom, where Split Face Block were used exclusively for structural walls.
Chimneys are usually the first part of a masonry building to show signs of deterioration. This is mostly due to the fact that chimneys resting above the roofline are virtually defenseless. Chimneys do not have any roof or gutter system to divert water away from them as on the main part of your brick building. A simple hairline crack in your chimney capstone can cause serious damage. Water penetration through a failed cap can cause the top courses of your chimney to disintegrate to the point where masonry repair is mandatory. When the majority of the brick on a chimney are spalling, flaking, cracking, displacing or even missing, it is time to rebuild it.
Commercial Roofing Services
Roof Repairs, Extensive roof repairs are designed to further the life expectancy of your roof. We have highly-trained roof technicians who are well-versed in all of the steep-sloped and low sloped roofing repairs. The repair process is needed to existing roofing where new modifications are made. These changes could include additions, new HVAC units, plumbing pipes, skylights, satellite dishes, masonry work, etc.
Our Preventative Roof Maintenance Program covers all major problem areas found with commercial and industrial roofing systems. Some of the problem areas covered by this program are as follows:
Roof Drains and Scuppers: Proper drainage is of the utmost importance. Not only will ponding water accelerate the deterioration of most roofing systems and void most warranties, but it can also result in structural damage or failure, causing major property losses and possible loss of life.
Flashings and Counter Flashings: Although they account for only a small portion of most roofing systems by area, flashings and counter flashings account for over 80% of all roof leaks.
Pitch Pans: The use of pitch pans with new roofing applications has decreased in recent years due to improved methods of flashing pipes, conduits, columns, and other small roof penetrations. However, their use in older systems remains a major source of roof leaks.
Expansion Joints: Expansion joints are an essential part of any large roofing system. They allow for the structural movement of the building components without damaging the roofing system.
Parapet Walls and Copings: Waterproofing of parapet walls, either with sealants or membrane, is another major source of water entering the roofing system. The main area of concern with coping caps is joint cover plates and miters.
Roof Coatings: If your roofing system has a roof coating, its main purpose is to protect the membrane from direct sunlight. Exposure to ultraviolet light accelerates the deterioration of most roofing systems.
There are many other potential problem areas such as bare spots, blisters, open laps, wrinkles, debris, roof-mounted equipment, process chemicals, and on and on that can result in roof leaks.
Modified Bitumen Roofing
Modified Bitumen Roofing Modified Bitumen Roof Systems are available in two types: Styrene Butadiene Styrene (SBS) and Atactic Polypropylene (APP). While both systems sheets can be reinforced with glass or polyester, they differ in how they are installed on the roof. SBS is typically installed with hot asphalt or cold adhesives. APP is almost always installed utilizing the torch method. Foley's team of professionals will assess your roof and suggest the best application approach for your facility. Both Modified Bitumen Roof System types can be surfaced with either factory surfacing ceramic granules or metallic laminates such as copper or stainless steel. If a cap sheet is not utilized, aluminum coatings or white acrylics can be applied to enhance the system's UV and oxidation resistance.
Commercial EPDM Roofing, One of Foley's signature roof systems EPDM, has a 40-year track record of proven performance and provides low maintenance and excellent weathering characteristics that make it the ideal roofing option for most northern climates. The traditional black color of the membrane attracts the sun's solar energy and can help to reduce heating costs during the cold, northern winters. The EPDM membrane may also help to melt snow that can pile up on your roof and lead to potential structural damage if not removed in a timely manner.
Commercial BUR Roofing, Maywood, ILBUR, is one of the oldest and most reliable commercial roofing systems for buildings with low-slope or "flat" roof structures. Starting in the 1840s, these roof systems are often referred to as "tar and gravel" roofs. BUR consists of multiple plies of roof felts laminated together with bitumen. BUR consists of bitumen-saturated organic fiber, fiberglass, or polyester felt. A top-surfacing or a glaze coat of asphalt, aggregate (gravel or slag), fibered, or non-fibered coatings engineered for roof coating, or a granule-surfaced cap sheet.
Commercial TPO Roofing, Maywood, ILTPO can be installed in Mechanically Attached, Adhered, and Ballasted roof systems and:
Combines the security of hot air welded seams with the long term wearability of rubber
Reinforced with polyester – scrim
Optional polyester-fleece backing is available and typically used on structural concrete decks as well as over granular surfaces.
Extrusion technology allows for wide membranes to be produced at a lower cost, covering a large rooftop quickly and effectively. Available in roll widths of 5 feet to 12 feet.
Membrane thickness of 45 mils to 80 mils.
Noted for ease of usage in sustainable design and construction programs.
Most environmentally "friendly" of all single-ply roofing membranes.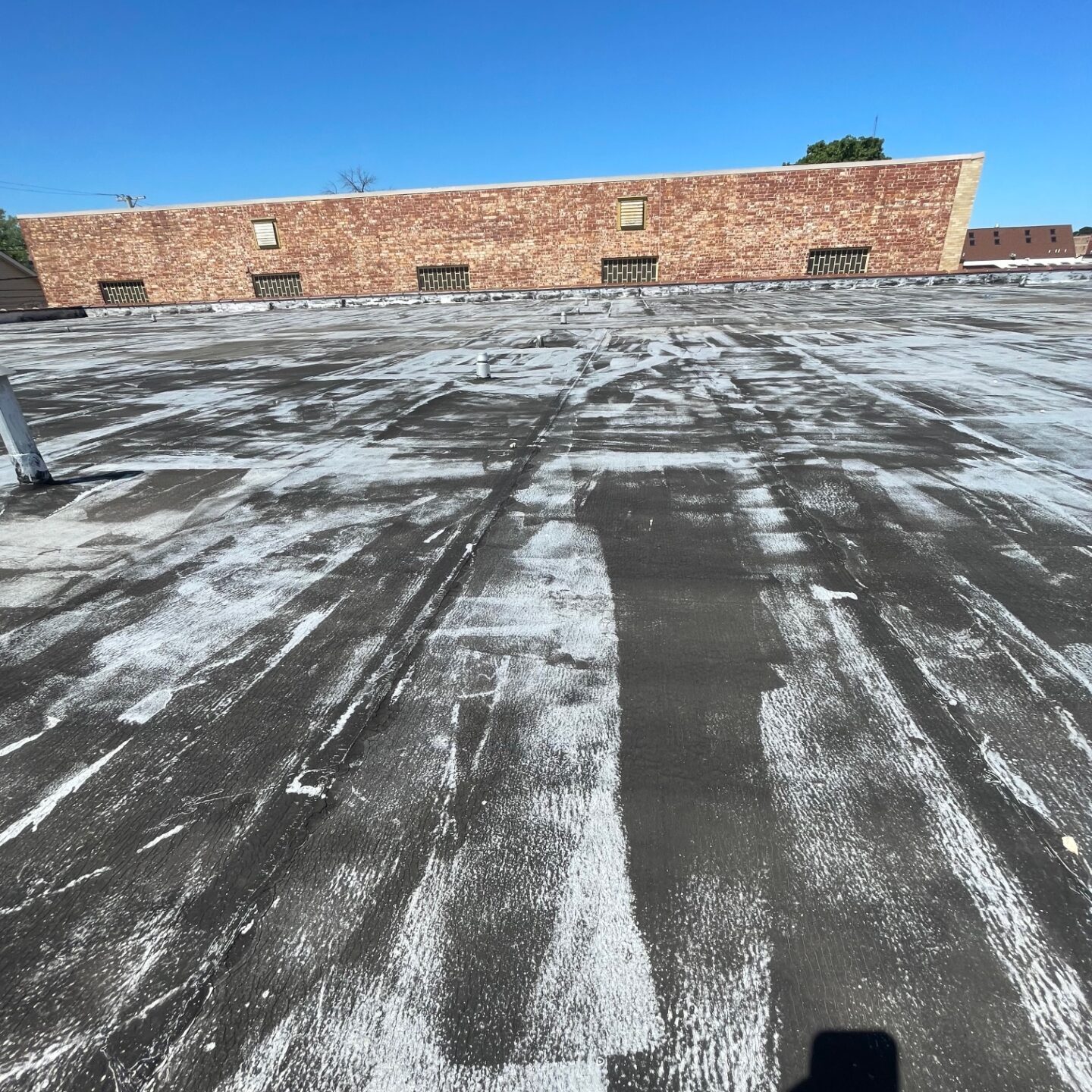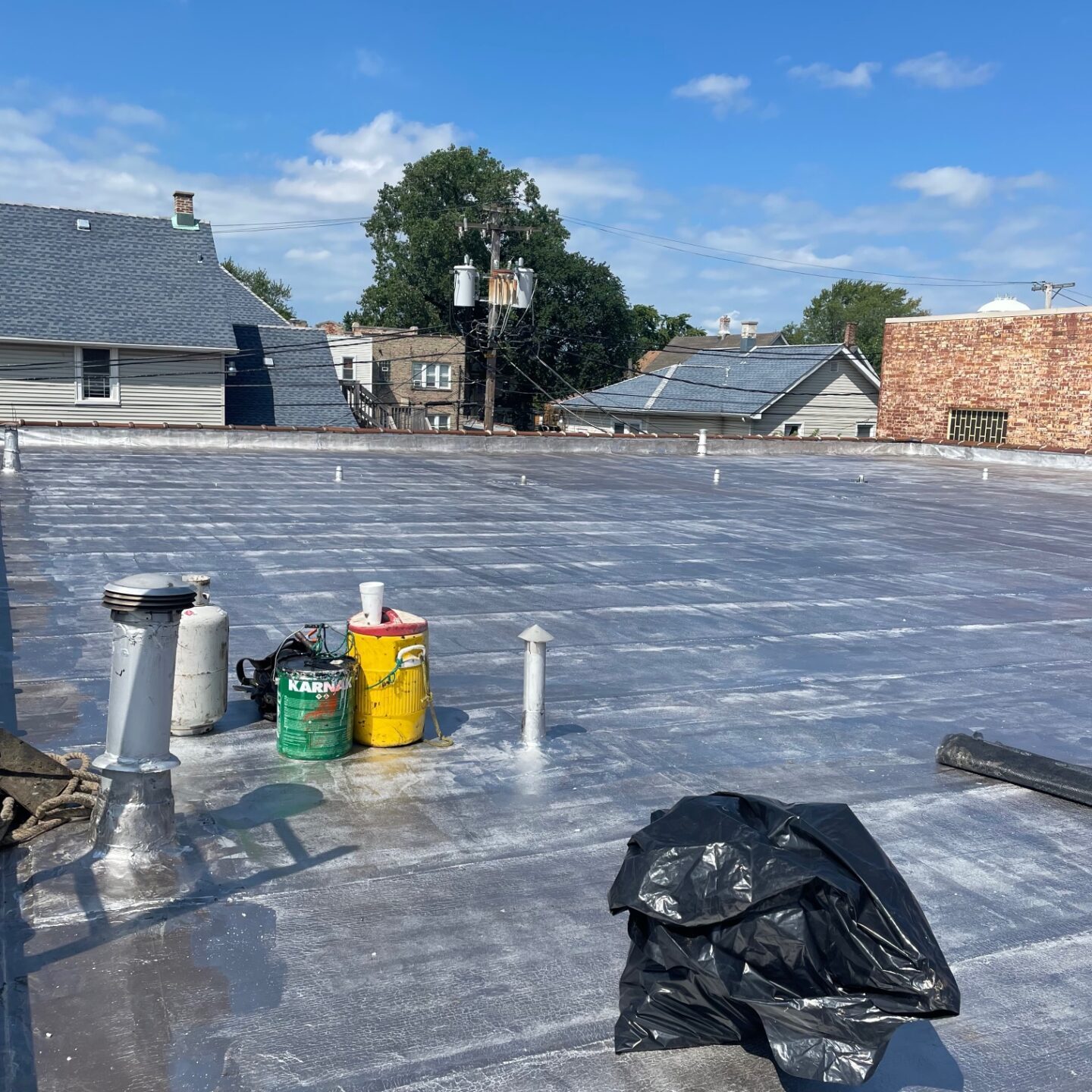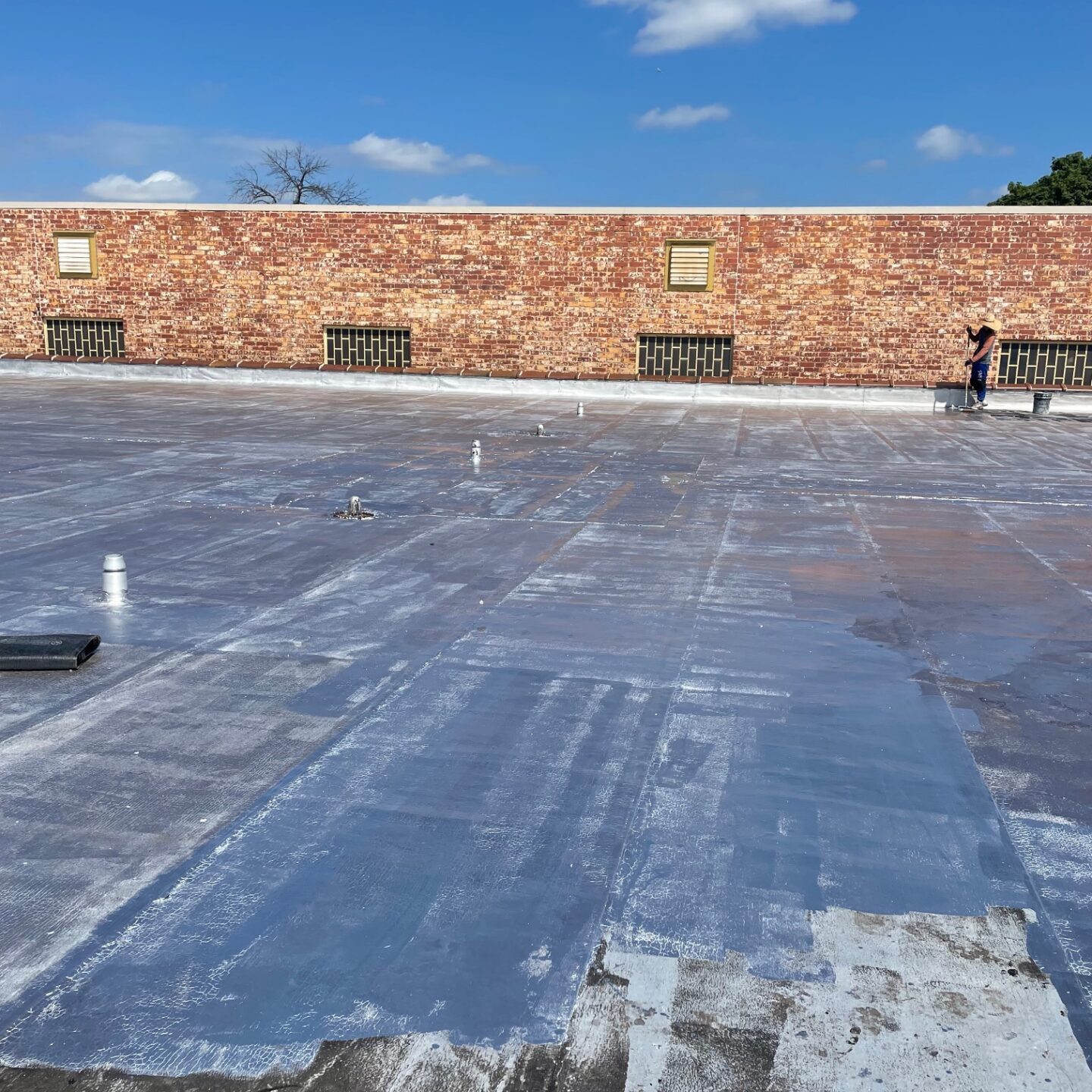 Residential Roofing Services
Whether you have a major leak or just want to replace a few worn shingles, our experienced roofing team can handle the job. Our installers use top-quality roofing materials and know the many ins and outs of virtually every kind of roof. No matter what type of roof you have and regardless of how complex the necessary repairs might be, count on the professional team at Foley Tuckpointing & Roofing, Inc. to provide affordable, top quality services for:
Tear-off and re-roof shingle roofs

Insulation and ventilation

Seamless aluminum and steel gutters and downspouts

A residential flat roof installed w/EPDM rubber membrane or hot tar built-up roofing systems
Installation of aluminum, steel, and vinyl siding

Aluminum soffit, fascia, and window
Chimney Cleaning & Repair

Anything on the exterior of the house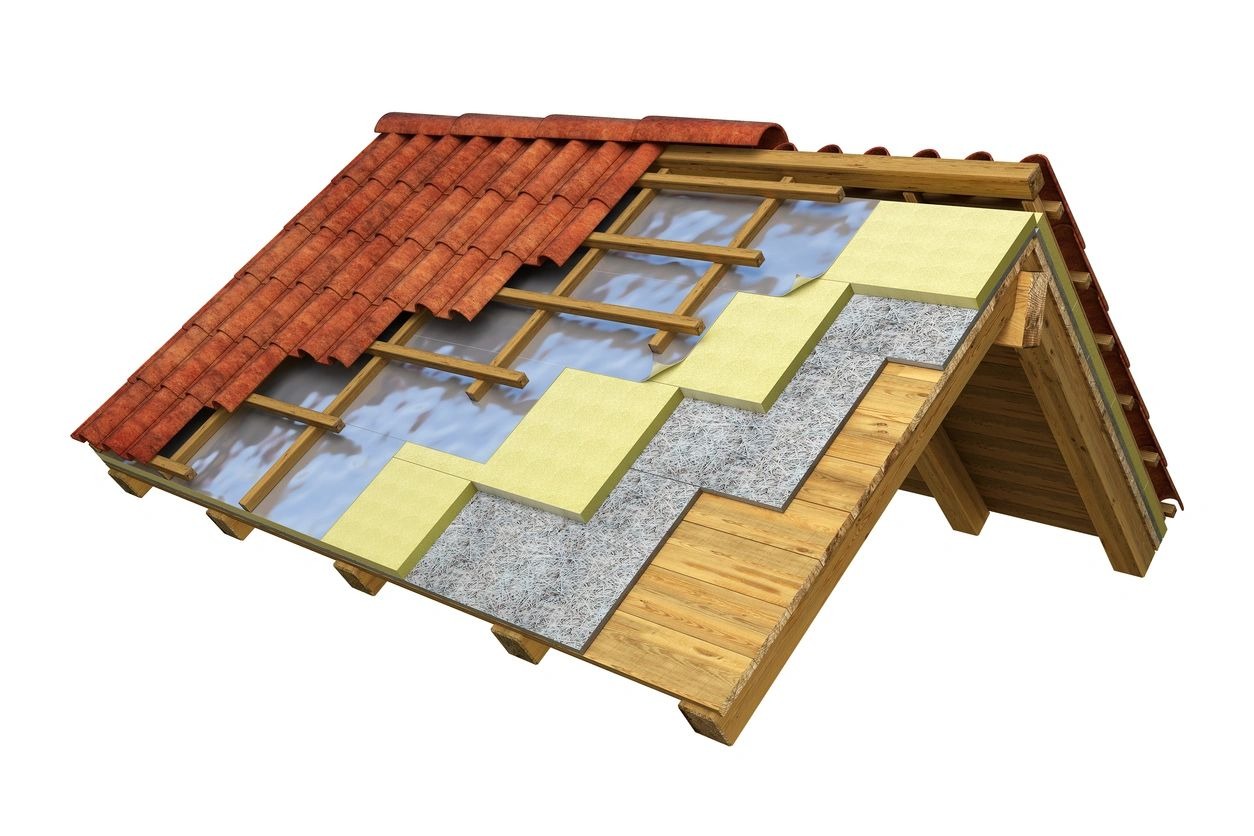 We roof per the guidelines. We strip off the old shingles and check for bad decking or chimney flashing. We apply felt, ice, water shield (if code), and re-roof to code.
Please keep in mind that this is a major construction project.

Shingles, particularly second layers, come off in pieces.
Expect a bit of mess no matter what contractor does the work. Be sure the items on the interior of your home that react to vibration during the installation process are secure. We will clean up and haul away the trash, including picking up nails with a magnet. In most cases, re-roofing can take one to two (1-2) days to complete.
Hail can damage your shingles, siding, or gutters without any visible signs from the ground. Hail typically has to be at least the size of a golf ball before it will break through your shingle and cause bruising.
If driven by high winds or if it hails for more than a few minutes, your roof will suffer from loss of protective granules. This will greatly reduce the life of your roof. Siding, gutters, and fascia can be dented by hail. Frequently this damage is difficult to see until the light is right.
Have the exterior of your home inspected to be safe.
HAIL
Loss of granule layer on the shingle will cause the organic-based center of the shingle to be exposed to the sun's UV rays. This will cause serious deterioration of the shingle in a short period. Furthermore, hail can actually puncture or seriously damage your roof.
HIGH WINDS
Over 50 miles per hour can lift the shingle and cause seals to break, never to be resealed. The unsealed shingles will then flap in the breeze and soon snap off.
VENTILATION
Improper or inadequate ventilation in your attic will cause the shingles to scorch and bubble up, causing a serious problem.
An inspection by a trained technician can verify the extent of the damages and outline the means to get them repaired.
Call Foley for assistance. One of our specialists will meet with you to assess your property.
If damage is found, we will inform you to call your insurance company.
Provide initial assessment estimate. We will provide you and your insurance company with an initial assessment and estimation of the damages.
Getting through the process. We will work with you to assure a clear understanding of the process and receive a fair claim settlement.